If you can't get to Broadway, maybe Broadway will come to you. That's what happened last weekend when the film recording of "Newsies" hit cinemas in the UK. Ok, so it's not quite the same as visiting the theatre, but with the Newsies tour of the US a distant memory, and no plans to bring it to the West End (that I know of) the film is as close as I'm likely to get for a while.
To see why I rave about the energy and excitement of the show, here's a clip from the movie trailer, then maybe get tickets to catch it at your local cinema:
Any brand-new label would be excited by their first release. Newbies Inherent Sounds have every right to be proud to kick off their roster with Sadness Is A Gesture from Aphra, the electropop alter-ego of Philadelphia's Rebecca Waychunas. Challenging and melancholy, this is not an easy collection to hear, but a fascinating album to listen to. Check out a review here and watch the video for opening track Geranimo below:
Don't forget to pop a comment below, or on Angry Baby's Facebook Page If you want to suggest a show or a new artist that you think I should feature in a future post, send me a link and watch this space.
Facebook doesn't always send posts to everyone, so if you are relying on Angry Baby's Facebook page to get your regular copy of this blog and FREE music, sorry, you might miss out. But if you put your email address under the big red arrow on the top right hand side of this page, you'll be sure to get all my future blogs, introductions to new music by new artists that just might turn out to be your new favourites, loads of amazing FREE music to enjoy and other good stuff. What's not to like about that?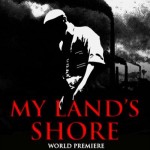 There's a new musical making it's mark in London. Not quite the West End, […]
Read More
Benj Pasek and Justin Paul have been one of my favourite writing teams, since […]
Read More
It's always a pleasure to premiere a new track from a band that is […]
Read More
Once in a while, you see a show that is so intense and compelling […]
Read More
As the year draws to an end, it's time to tally up the Angry […]
Read More
On Saturday evening, I went along to the New London Theatre to catch my […]
Read More
Last Friday saw the release of Rheo's debut single Our World. If you haven't […]
Read More
If you tuned in to Michael McIntyre's Big Show on BBC TV last Saturday, […]
Read More
The past month has been a triumph for Angry Baby favourite, Folkstock Records. Kicking […]
Read More